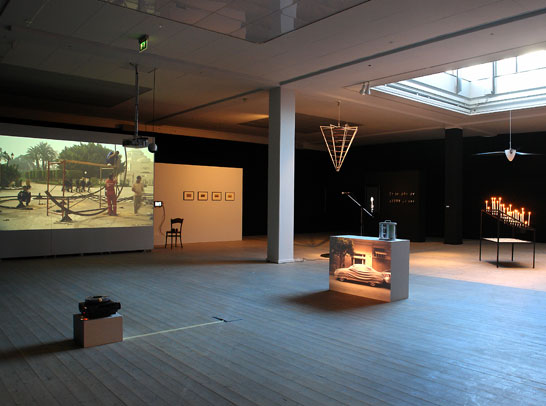 Photo: Jens Møller Sørensen

Opening: 21 January with the performances 'Postpetrolism was Heralded here on 21 January 2011' followed by the 'Postpetrolistic Internationale'

22 January:
Panel discussion with the artists


'
Christina Hemauer
/
Roman Keller
: United Alternative Energies'
, the most comprehensive presentation of the duo's work to date, presented
ten works of which four were new productions
.

The Swiss duo has investigated the concept of energy for several years. One of their main areas of interest is the history of oil and its competing alternatives, notably solar energy. Often involving
historical research, remembrance, performance and film
, their projects focus in particular on the politics of oil, energy crises, and the pursuit of new technology.

Their work often provides an opportunity to revitalize key historical moments. For example, the 66 minute documentary essay '
A Road Not Taken
' (2010) examined former
US President Jimmy
Carter's
early and ultimately futile efforts
to
raise awareness about oil dependency
, as symbolized by the
installation
, in 1979, of
solar panels on the White House roof.

Also featured in the exhibition was
No.1 Sun Engine
(2008–9) produced for the
11th Cairo International Biennale
. In
1913
, American inventor Frank Shuman inaugurated the first large-scale
solar power generator near Cairo
, Egypt. Although it was economically viable compared to coal power, the plant was only used for one year. The artists reconstructed two segments of this
pioneering facility
and established an information kiosk in Cairo where local residents and passers-by could discover and contribute to its story.


Globalising the Internationale
(2006–ongoing) is a
choral work
which refers to the songs of socialism and the
workers' movements
– one of the most widespread social upheavals of the late 19th and early 20th Centuries. With this project, the artists aimed to use the collective
force of the human voice
to herald a new age of
alternative energy beyond fossil fuels.


The exhibition was one of five exhibition proposals selected from approximately 600 submissions received in response to the
Aarhus Art Building
's
open call
for their 2011 program, entitled
'Imagine: Towards an Eco-Aesthetic'
.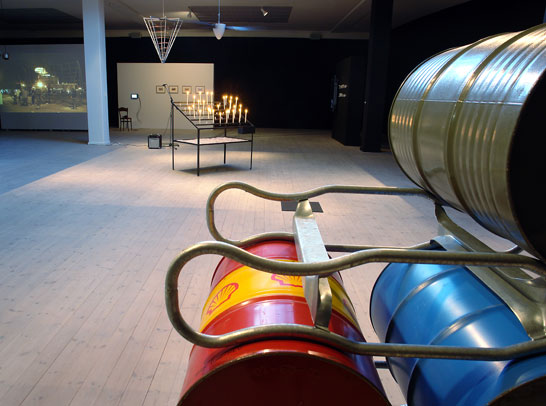 Foto: Jens Møller Sørensen

Inauguración: Viernes 21 enero con performances 'Postpetrolism was Heralded here on 21 January 2011' seguida de 'The Postpetrolistic Internationale'

22 Enero: Mesa redonda con los artistas

'
Christina Hemauer
/
Roman Keller
: United Alternative Energies'
, la presentación más amplia de su trabajo hasta la fecha, presentó
diez proyectos, cuatro
de ellos de nueva producción.

El dúo suizo ha investigado el concepto de energía durante varios años – como concepto alegórico, fuerza invisible, y como tema que define la geopolítica y la modernidad. Uno de sus principales focos de interés es la historia del petróleo y sus alternativas, especialmente la
energía solar
. Recurriendo a
investigación histórica, la memoria, el performance y el film
, sus proyectos se centran, en particular, entorno a la política del petróleo, las
crisis energética
y la búsqueda de
nuevas tecnologías
.

Su trabajo a menudo
recrea momentos históricos,
como es el caso del documental '
A Road Not Taken
' (2010, 66 minutos) en el que se examinan los primeros
esfuerzos del ex-presidente norteamericano
Jimmy Carter en crear conciencia sobre la
dependencia del petróleo
, simbolizada en la instalación en 1979 de
paneles solares
en el tejado de la Casa Blanca.

También se incluyó en la muestra
No.1 Sun Engine
(2008–9), producida para la
11th Cairo International Biennale
(2008–9). En 1913, el inventor norteamericano Frank Shuman inauguró el
primer generador de energía solar a gran escala
cerca de El Cairo, Egipto. A pesar de que era económicamente viable en comparación con la energía del carbón, la planta fue utilizada sólo durante un año. Los artistas reconstruyeron dos segmentos de esta
pionera instalación
en El Cairo y establecieron un centro de información donde residentes locales y transeúntes podían descubrir y contribuir a su historia.

Asimismo se incluyó
Globalising the Internationale
(2006–en curso), una obra coral presentada recientemente en el contexto de '
Portscapes
', la serie comisariada por Latitudes, relacionada con
canciones del socialismo
y los movimientos de los trabajadores – uno de los trastornos sociales más generalizados de finales del XIX y XX. Con este proyecto, los artistas tienen como objetivo utilizar la
fuerza colectiva de la voz
humana
para anunciar una nueva era de la energía alternativa.

La exposición fue una de las cinco propuestas seleccionadas de entre 600 recibidas en respuesta a la
convocatoria abierta
realizada por el
Aarhus Art Building
para su programa de 2011, titulado
'Imagina: Hacia una Eco-Estética'
.