Guest Editors: UOVO/14 'Ecology, Luxury & Degradation', Summer 2007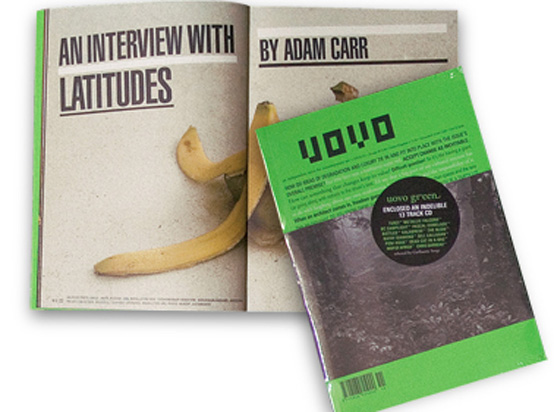 Photo: The Bookmakers Ed.




UOVO #14 presented
interviews, essays, projects and two CDs
around art practices that resist the spectacularisation or romanticisation of ecological issues or the natural world. Instead their practices explored the operational function and processes of ecosystems themselves, a capacity to comprehend connections and transgress disciplines and boundaries while addressing the uniformly conflicted future of the planet.

The issue was launched during
Art Basel
's Art Lobby on the
17 June 2007
.

MAGAZINE CONTENTS:
I. PEOPLE
(INTERVIEWS)
HELLO Adam Carr interviews
Latitudes
Mark von Schlegell
by Jacob Fabricius

Sergio Vega
by Mariana Cánepa Luna

Ibon Aranberri
by Peio Aguirre

Lara Almarcegui
by Florence Grivel

Tea Mäkipää
by Latitudes

Binna Choi
by Nav Haq

Haegue Yang
by Doryun Chong – read an excerpt from the
Walker Art Center Blog
Tue Greenfort
by Francesca Pagliuca

Christoph Keller
by Max Andrews

Michael Rakowitz
by Peter Eleey

II. TXT
Chus Martínez on
Arturas Raila

Ben Cobb on the 1973 film '
Soylent Green
'


III. VIEW
Federico Martelli
,
Zwelethu Mthethwa
,
Ravi Agarwal
and
Noguchi Rika

IV. SOUNDSCAPES
photo-documentation and
CD compiled by David Toop on invitation of Latitudes

Chris Watson "La Nuit"
Rob Mullender/Isobel Clouter "Baorittaolegainuoer–natural booming"
Lee Patterson "Ox Bow Pool & Airliners"
Peter Cusack "Oil Field Soundwalk"
Louise K. Wilson "Nurrungar (listening station)"
Toshiya Tsunoda "Vibration through long and thick rope at seashore"
Michael Prime "Insectiverous bats / Tongkat Ali"
Jeph Jerman "Clarkdale Slag Heap"
Lawrence English "Storm-master"
David Toop "Artificial or Captive?"
V. SET
CD compiled by UOVO collaborator Guillaume Sorge
---

Editores invitados: UOVO/14 'Ecología, lujo y degradación', Verano 2007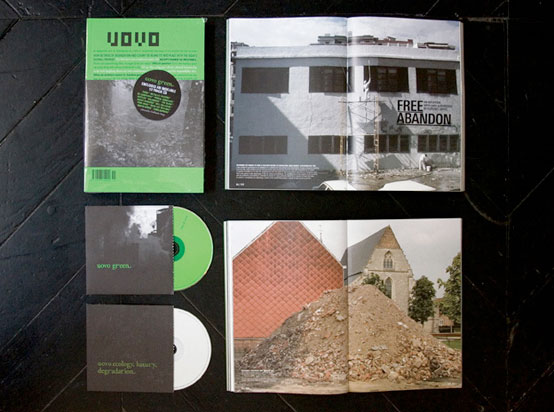 Photo: Alexis Zavialoff



El número 14 de UOVO (verde) incluyó
entrevistas, ensayos, proyectos y 2 CDs
alrededor de prácticas artísticas que resisten la espetacularización o la romantización de los temas ecológicos y del mundo de la naturaleza. Las prácticas artísticas presentadas en UOVO/14 exploran los procesos de los ecosistemas, la capacidad para comprender conexiones y transgredir disciplinas al tiempo que analizan el conflictivo futuro del planeta.

El número se presentó en el Art Lobby de
Art Basel
el
17 Junio 2007
.

CONTENIDOS REVISTA:

I. PEOPLE
HELLO: Adam Carr con
Latitudes
Mark von Schlegell
por Jacob Fabricius

Sergio Vega
por Mariana Cánepa Luna

Ibon Aranberri
por Peio Aguirre

Lara Almarcegui
por Florence Grivel

Tea Mäkipää
por Latitudes

Binna Choi
por Nav Haq

Haegue Yang
por Doryun Chong – lee un extracto en el
Blog del Walker Art Center
Tue Greenfort
por Francesca Pagliuca

Christoph Keller
por Max Andrews

Michael Rakowitz
por Peter Eleey


II. TXT
Chus Martínez sobre
Arturas Raila

Ben Cobb sobre la película '
Soylent Green
' (1973)


III. VIEW (Artist pages)

Fotografías de
Federico Martelli
,
Zwelethu Mthethwa
,
Ravi Agarwal
y
Noguchi Rika

IV. SOUNDSCAPES:
fotodocumentación y CD
seleccionado por
David Toop por invitación de Latitudes
Chris Watson "La Nuit"
Rob Mullender/Isobel Clouter "Baorittaolegainuoer–natural booming"
Lee Patterson "Ox Bow Pool & Airliners"
Peter Cusack "Oil Field Soundwalk"
Louise K. Wilson "Nurrungar (listening station)"
Toshiya Tsunoda "Vibration through long and thick rope at seashore"
Michael Prime "Insectiverous bats / Tongkat Ali"
Jeph Jerman "Clarkdale Slag Heap"
Lawrence English "Storm-master"
David Toop "Artificial or Captive?"

V. SET:
un CD compilado por Guillaume Sorge, colaborador habitual de UOVO